So tonight I had my almost vegan supper and overall it was really good.
I wasn't too fussy about the Gardein Chik'n fillets however it may have been because I hadn't prepared them correctly. i just slipped them in the Mushroom gravy and simmered them until the were heated through. Maybe if I get them next I'll pan fry them a bit first to brown them up.
The picture isn't the best and you have to imagine that I had some kind of green vegetable on the plate too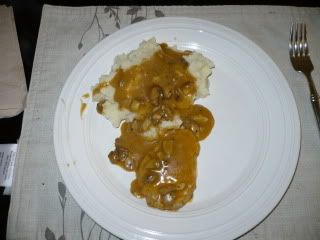 It tastes a lot better than it probably looks
The real winner of supper was the Vegan Mushroom gravy. It did call for nutritional yeast which I didn't have but even without it it was super yummy. I'll try it next time with rice and some vegetables on the side for a complete meal.
I'm happy and full now
Tomorrow WW English Muffins with the Crofters Superfruit Spread:) Can't wait!